Hey, You Are Welcome – first of our songs.
The Little Earwigs say "Hello"!
From Darmstadt City we do come along,
Let´s Go !
So long, my Dreamer. Have a dream or two,
Of Mr. Bluemoon, and so on.
Before I am Electrified By You
I´m gone.
My name is Helmut. Wailing: Oh, My Boy.
Peter looks at Evil In The World.
But Sweet Susannah gives him lot of joy,
His pearl.
I tell you baby, One And One Are Two
I know, that you can Count To Three.
Unfortunately I feel Troubles Of
My Own.
We ask ourselves, is it Good-Bye To Love ?
Or if it´s Better Than It Seems.
Tell you the story of The Gartenzwerg.
His dreams.
Der Forscher forscht, wie weit er springt, der Frosch.
Wir fragen Euch dann mal: Warum ?
Erzähl von uns´rer Schicki-Micki-Maus.
Wie dumm.
It was a stressful summer, oh so cruel.
Like Sunday morning I was sad.
That little Crazy Baby we do not
Forget.
We´d like to sing Our Song For Every One.
And we remember, John Is Dead.
But Maybe Baby, if you come along,
I´m glad.
You´re welcome
You´re welcome.
Infos und Kommentare zum Song Nr.01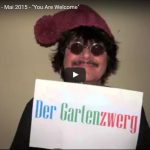 Earwig des Monats Mai 2015 – "You Are Welcome"